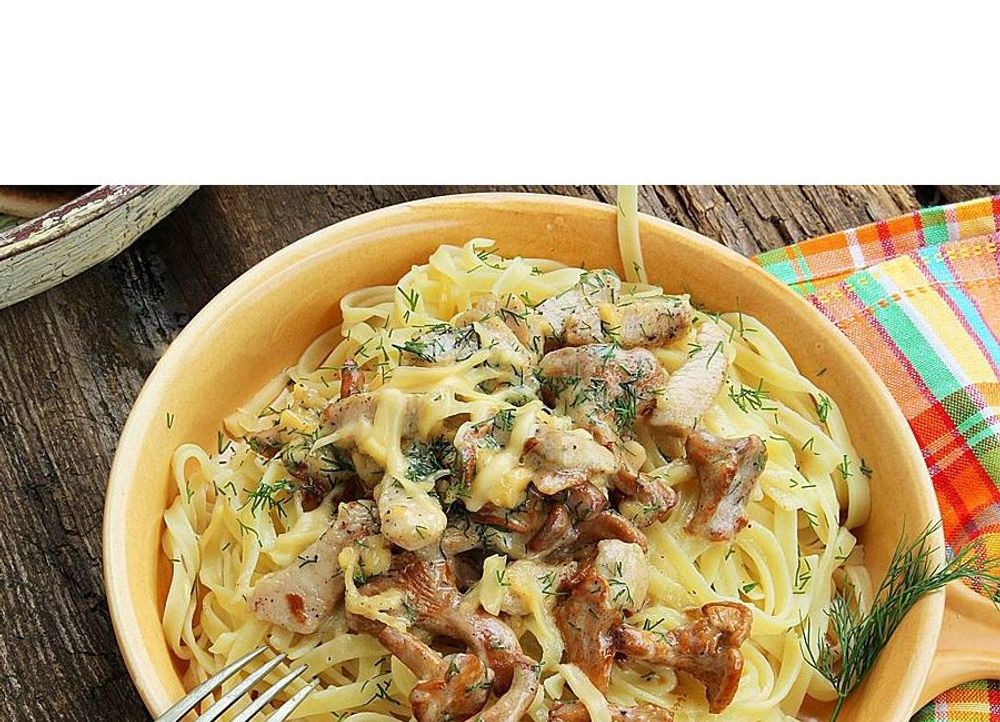 Simple, quick and very home-like - all this, of course, is about dishes with pasta. For the fullness of the taste, you just need to prepare some kind of sauce for them. Today we are preparing pasta with chanterelles and chicken in a creamy sauce.
General \ asset cooking time: \
Servings Per Container: 6 Servings
Caloric value (100g): 208 kcal
Cost: average cost
How to cook pasta with chanterelles and chicken in a creamy sauce
Pasta - 500 g
Chicken breast - 200 g
Mushrooms - 400 g of chanterelles
Hard cheese - 50 g
Cream - 250 ml
Dill - to taste
Vegetable oil - 50 ml
Butter - 20 g
Salt to taste
Black pepper - to taste
Bulb onions - 1 pc.
Garlic - 2 teeth
Preparation: Step 1
First you need to prepare all the necessary products so that they are on hand.

Thoroughly wash the chanterelles in several waters, and, if necessary, clean up the most contaminated places with a knife. If the mushrooms are large, then cut them into several pieces. Then you can put the chanterelles on a clean towel so that excess moisture is absorbed a little.

Cut the chicken breast into small pieces. It is better to cut the chicken meat across the fibers, so it will turn out to be more tender.

Lightly season these pieces of chicken with spices, salt and pepper. Peel the onion and cut into small cubes. Peel the garlic.

Grate cheese on a coarse grater.

Put a large pot of water on fire. Lightly salt and pour in a spoonful of vegetable oil. When the water boils, put the pasta in it and boil, guided byinstructions on the packaging.

For the sauce in a preheated pan with vegetable and butter, fry the chopped onion until half cooked, no special frying is required here. Then add the chanterelles, salt and pepper to taste. Fry everything together until the liquid has completely evaporated, since the chanterelles give a lot of juice.

As soon as all (practically) of the liquid has evaporated from the mushrooms, you can add the chopped chicken. Fry everything for about 5-7 minutes, stirring from time to time - the meat will change color and lightly brown.

Now you can add the chopped garlic and pour in the cream. Bring them to a boil, stirring the entire contents slightly.

As soon as the cream comes to a boil, add most of the grated cheese (2/3 is enough) and, reducing the heat, letthe sauce thicken slightly - it will take 2-3 minutes.

Immediately put the pasta and sauce on plates and, sprinkle with a little grated cheese and chopped dill, serve.