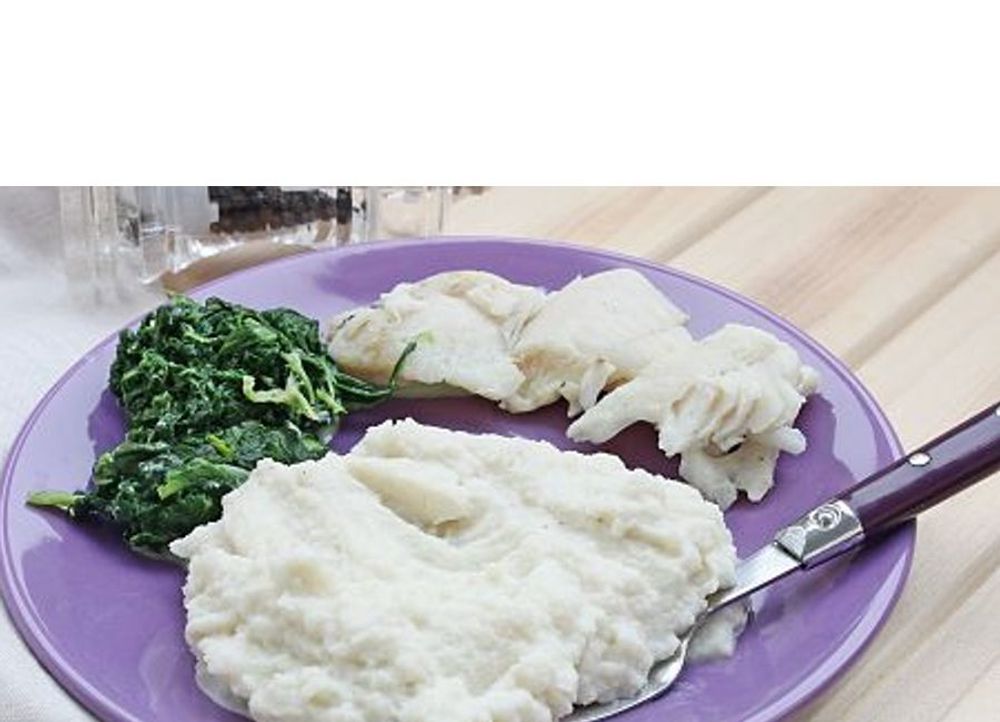 Delicate creamy cauliflower puree and melting in your mouth cod, complemented by vibrant spinach in all respects - the perfect end to a hard day.
General \ asset cooking time: \
Servings Per Container: 4 Servings
Calories (100g): 56 kcal
Cost: very economical
How to make cod cabbage puree
Cauliflower - 900 g
Cream - 200 ml 10% fat
Salt to taste
Black pepper - to taste
Nutmeg - 1 pinch (s)
Turmeric - 1 pinch (s)
Bulb onions - 1 pc.
Milk - 500 ml
Cod - 400 g
Bay leaf - 2 pcs.
Spinach - optional
Preparation: Step 1
Rinse the cauliflower thoroughly under running water. Break it into small inflorescences.

Vegetables retain most of their beneficial properties when steamed, so it is best to boil the cauliflower in a double boiler or using a special steamer.

If you do not have a steamer or a special pan, then put the cabbage inflorescences in a regular pan and fill it with water. Just enough water to cover the vegetables.

If you are using frozen cabbage, thaw it before cooking.

Put the cabbage in small batches in a blender bowl and puree until tender.

Salt the cauliflower puree, add the nutmeg and pour in the cream. Mix everything well.

We will cook the fishnot quite the usual way - to boil it in milk.

It is best to take white fish with dense "meat". In this case, cod can be replaced with fillets of pike perch or sea bass.

Rinse the cod fillets thoroughly and pat dry with paper towels. Cut the fish into small pieces. Peel the onion and cut into halves.

In a saucepan, bring the milk, onions, bay leaves and turmeric to a boil. Season with salt and pepper.

Reduce heat to low and place cod fillets in milk. Cover, cook for 5 minutes.

Transfer the fish to a plate using a slotted spoon.

You can cook fish in milk differently. To do this, season the fish cut into portioned pieces with salt, pepper, roll in flour. Fry the fish in a frying pan until half cooked, put onion, cut into half rings, and cover with milk.Cook over low heat, covered with a lid, until fish is cooked through.

Put spinach in milk and cook for 1 minute, then discard in a colander.

Arrange the cabbage puree and cod on bowls, add the spinach and serve.