Smoothies are a very healthy soft drink made from fresh berries, fruits, and vegetables. Also, in the preparation of smoothies, ice and liquid are used (milk, cream, yogurt, water and various juices). Ice in the drink can be omitted if the berries are frozen first. Smoothie consistency can be very thick or runny, depending on your preference.
The advantages of this drink are that you can endlessly experiment with its ingredients. Combine celery and strawberries, yogurt and herbs, or try making berries, fruits, and vegetables together. Another plus of a smoothie is the time it takes to prepare it, a maximum of 5 minutes and the drink is ready.
Today, I want to offer you a recipe for a berry smoothie with yogurt. I bought a set of frozen berries that contains strawberries, cherries and black currants. It turns out moderately thick and sweet. Ideal for those who are on a diet or lead a healthy lifestyle.
Ingredients for 2 servings
Berries s / m 150 gr.
Yoghurt 300 gr.
Honey 30 gr.
Berry smoothie with yogurt preparation
Place all ingredients into a blender bowl. Beat for 2 minutes until you get a homogeneous consistency.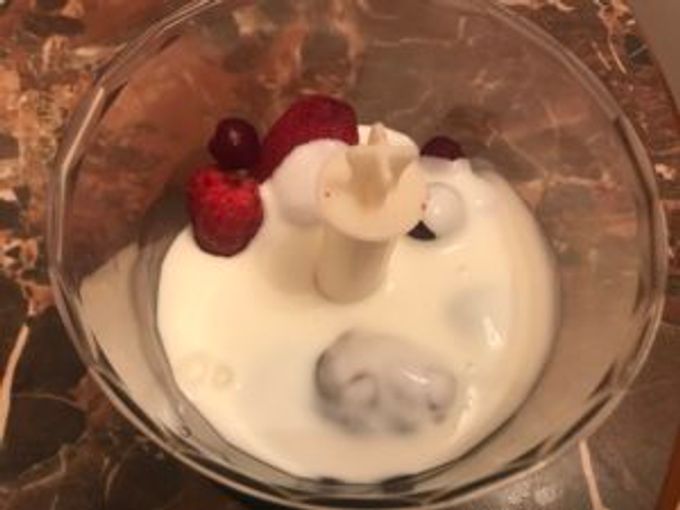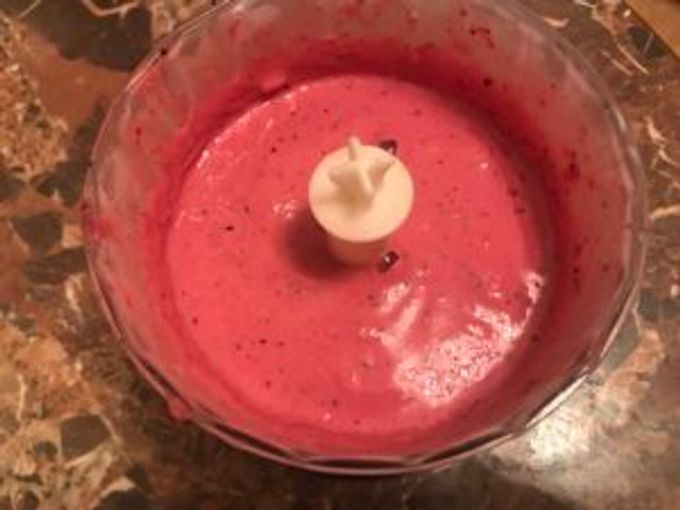 Pour the finished berry smoothie into glasses and serve.
Bon Appetit!
Things to know (Q&A)
What does adding yogurt to a smoothie do?
Yogurt is an ideal ingredient for smoothies because it adds a good amount of protein , which makes it a filling breakfast or snack. Greek yogurt adds a whopping 12 grams of protein per half cup. It also adds live probiotics, which can aid in gut health, as well as calcium and vitamin B-12 (source
What should you not mix in a smoothie?
Well, the truth is, is that the healthy benefits of you smoothie depend on what you are putting into your drink and there are three ingredients that you should not be adding and these are milk, sugar, and ice
Are fruit and yogurt smoothies healthy?
The most nutritious smoothies are made with whole foods like fruits, vegetables, yogurt, and healthy fats , while those with lots of added sugars aren't as nutrient-dense and may contribute to negative health effects over time. Smoothies high in protein and fiber may even aid weight loss by keeping you full.
How many calories are in a berry and yogurt smoothie?
Calories in Mixed Berry Yogurt Smoothie
| Calories | 186.8 |
| --- | --- |
| Potassium | 691.5 mg |
| Total Carbohydrate | 28.7 g |
| Dietary Fiber | 3.4 g |
| Sugars | 17.8 g |
Does yogurt make smoothies thicker?
Using Greek yogurt in place of your liquid ingredient, like milk or coconut milk, adds texture and thickness to a smoothie . Greek yogurt tastes great combined with berries and bananas.
Is it better to put milk or yogurt in a smoothie?
Milk is filled with nutrients and is a significant source of calcium and vitamin D. Using milk will give you a creamier smoothie, but make sure to check the nutrition label and watch the amount of fat and calories you're adding into your smoothie.
What should you not mix in a smoothie?
6 Things You Should Never Add To Your Smoothie
Fat-free flavored yogurt.
Fruit juice.
Ice cream, frozen yogurt, or sherbet.
Too much of a good thing.
Added sweeteners.
Canned fruit.
What are the healthiest things to put in a smoothie?
Other tips for adding fruit to your smoothies: Freeze single-serving baggies of fruit to replace ice for extra nutritional value. Use fresh or frozen fruit — they're equally nutritious.
...
Great fruits to try in your smoothie include:
Oranges.
Peaches.
Pineapples.
Strawberries.
Raspberries.
Grapes.
Pears.
Blackberries.
How many calories are in a fruit and yogurt smoothie?
Calories in Single Serving Mixed Fruit/Yogurt Smoothie
| Calories | 119.3 |
| --- | --- |
| Total Carbohydrate | 20.6 g |
| Dietary Fiber | 1.8 g |
| Sugars | 14.4 g |
| Protein | 5.0 g |
How many calories does a berry smoothie have?
How many calories in a berry smoothie? This mixed berry smoothie contain 203 calories per cup . You can reduce calories by omitting the yogurt, if you like.
How many calories are in a berry with yogurt?
Nutrition Facts

Per Serving: 154 calories ; protein 23.2g; carbohydrates 13.5g; dietary fiber 0.9g; sugars 11g; fat 1g; saturated fat 0.3g; cholesterol 11.3mg; vitamin a iu 29IU; vitamin c 3.6mg; folate 18mcg; calcium 249.7mg; iron 0.3mg; magnesium 27mg; potassium 345.7mg; sodium 81.4mg; thiamin 0.1mg.
How many calories are in a homemade smoothie?
Many 15- or 16-ounce smoothies list calories at about 80 or 90 calories , and people often think, "Well, that's not terrible." But those 80 or 90 calories are for one 8-ounce serving.