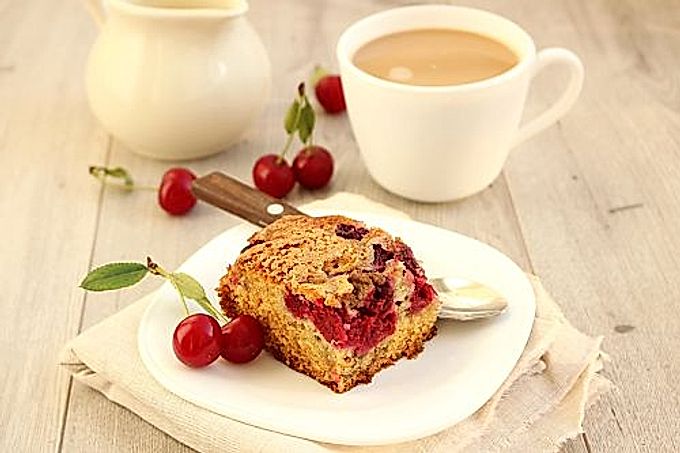 Pies cooked with sour cream are always amazingly tender and airy. Today's cherry and sour cream pie is no exception: it turns out to be very moist and literally melts in your mouth. Cherry is the perfect addition to this delicious dough - its season is now in full swing. It's time to bake pies and pies with cherry filling.
General \ asset cooking time: 1 hour 20 minutes \ 20 minutes
Servings Per Container: 6 Servings
Calories (100g): 242 kcal
Cost: very economical
How to make a cherry and sour cream pie
Wheat flour - 160 g
Egg - 2 pcs.
Cherries - 300 g
Butter - 100 g
Soda - 1 tsp
Corn flour - 50 g
Sugar - 150 g + a little more
Sour cream - 200 g
Preparation:
First of all, for a pie with cherries and sour cream, you need to remove the seeds from the cherries, they are only appropriate in cherry jam, well, not in the pie. You can do this by resorting to the achievements of technical progress, or with the help of the most ordinary pins - this method was still used by our grandparents. Better yet, call your family for help so that they do not get bored and feel that they also had a hand in creating a miracle.

It was with a pin that I removed the bones, although I had no helpers. But this is a matter of skill, you just have to adapt, and the process goes very quickly.

Beat the eggs thoroughly with 150 grams of sugar.
The mass should grow in volume, become thicker and turn white.

While the eggs are beating, I put a small ladle on the stove and put the butter there. Melt over low heat and keep for about 3-5 moreminutes. During this time, the butter turns slightly brown and acquires a light nutty aroma, which greatly decorates any dough.

Combine butter, beaten eggs and sour cream in a bowl. I mix gently.

The fat content of sour cream in this case is solely at your discretion. Instead of sour cream, you can also take thick natural yogurt, only in this case it is better to add a little more sugar to the dough, since yogurt is still devoid of that light sweetness that is inherent in sour cream.

I pour in wheat and corn flour and soda. Mix thoroughly again.

Lightly grease the form with butter and spread the dough. I distribute the cherries on top and sprinkle with sugar (about 1 tbsp) - thanks to this, a sweetish crispy crust forms on the surface of the cake, which ideally sets off the sourness of the cherry.

The oven, meanwhile, is preheated to180 ° C. I send my pie there for about 45 minutes. Remember that this time is approximate - it depends on the characteristics of your particular oven, as well as on the very size of the form used (high or low). There is only one way to check the readiness: the stick stuck into the dough must be dry.

I take out the finished pie with cherries and sour cream from the oven, let it cool a little, and then cut it into squares.
That's it, you can invite everyone for tea!