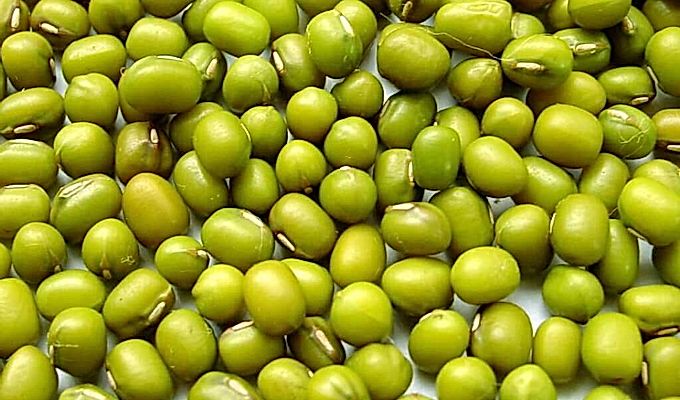 Mung bean (mung bean) is a plant of the legume family, which is a source of easily digestible protein, phytoestrogens and protease inhibitors. The birthplace of culture is India. Today it grows in Southeast Asia, Uzbekistan, Korea, Japan, China, Turkmenistan. Harvesting occurs in June and November.
Benefit and harm
Chemical composition
Cooking methods
Recipes
Conclusion
Outwardly, this plant is small, green oval beans. They are used in cooking as a side dish. Mung bean is eaten whole or starch is extracted from it, on the basis of which noodles are made. In addition, the beans are used for making pureed soups, salads, creams, and snacks.
Mung bean is a high-calorie product that is very beneficial for women's health. It maintains hormonal levels (which is especially important during menopause), inhibits the development of breast cancer. In addition, mung beans improve memory and vision, strengthen joints and bones, fight allergies and asthma, and have a beneficial effect on the state of the nervous system.
Mash is extremely popular in the cosmetics industry. The composition of the beans includes coenzyme, which stops age-related changes in appearance: the appearance of age spots, wrinkles, flabbiness.
Benefit and harm
Mung bean has a diuretic, antiseptic and detoxifying effect. Interestingly, in ancient China, healers used these "miracle beans" to cleanse the body.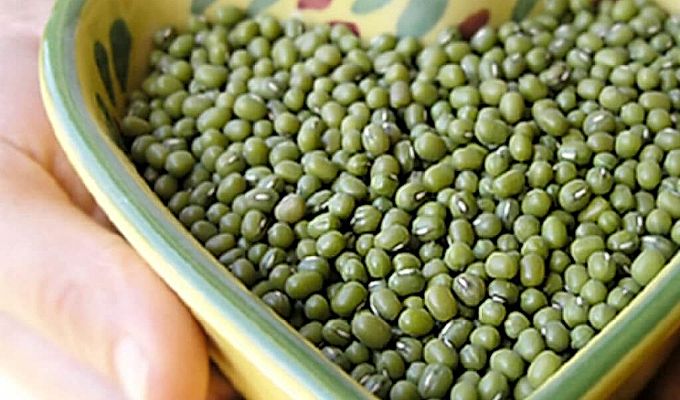 Useful properties [1]
reduces pores, nourishes, softens, brightens the skin (as a mask);
strengthens the immune system;
stimulates mental activity;
improves visual acuity;
stabilizes cholesterol and blood sugar levels;
fights tumors (protease inhibitors);
improves the hormonal background and the psychological state of a woman during menopause, fights hot flashes (phytoestrogens);
normalizes blood pressure;
absorbs toxins, excess fat;
increases the flexibility of arteries, veins;
stimulates the production of collagen, elastin, hyaluronic acid, which give the skin a young, healthy, toned appearance (phytoestrogens);
increases efficiency;
regulates body temperature, thereby preventing heatstroke;
normalizes metabolism;
helps curb hunger, reduces sugar cravings.
Dr. Haichao Wang found that mung bean extract prevented sepsis. [2]
Mung beans are a plant-based alternative protein source. Interestingly, 100 g of mung bean contains 23.5 g of protein [3] [4] pork - 16 g [5] chicken - 22.6 g [6] [7]
Legumes are a dietary product that is especially useful for diabetics, vegetarians, athletes, overweight people, heart and metabolic problems.
Contraindications [8]
intolerance to the product;
poor intestinal motility;
diseases of the digestive system.
With excessive use, flatulence and dispersion may occur.
Chemical composition
Mung bean contains valuable vegetable protein, fiber, vitamins, minerals, protease inhibitors, phytoestrogens, which can fully replace meat.
Sprouted beans provide the greatest value for humans, since the concentration of nutrients in them increases 1.5 - 5 times.
| Components | Content, g per 100 g of product [3] |
| --- | --- |
| Carbohydrates | 46 |
| Starch and dextrins | 42.4 |
| Squirrels | 23.5 |
| Water | 14 |
| Alimentary fiber | 11.1 |
| Mono- and disaccharides | 3.6 |
| Ash | 3.5 |
| Fats | 2 |
Name
Nutrient content, mg per 100 g of product
Vitamins
Phylloquinone (C)
0.009
Ascorbic acid (C)
4.8
Pantothenic acid (B5)
1.91
Thiamin (B1)
0.621
Tocopherol (E)
0.51
Pyridoxine (B6)
0.382
Riboflavin (B2)
0.233
Niacin (B3)
2,3
Folic acid (B9)
0.625
Macronutrients
Potassium
1000
Phosphorus
358
Magnesium
174
Calcium
192
Sodium
40
Trace elements
Iron
6
Zinc
2.68
Manganese
1.035
The calorie content of mung beans and their sprouts is 300 and 30 kcal, respectively.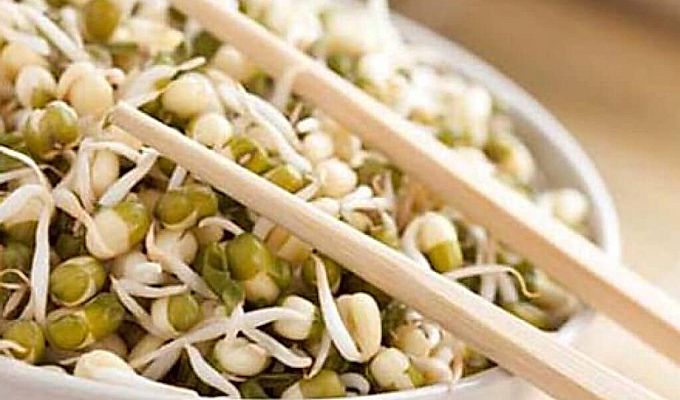 Cooking methods
Mung beans are widely used in boiled form in Asian cooking. They are used unpeeled, shelled, whole or crushed. Starch is extracted from mung bean, which is used for the production of pasta, jelly, ice cream, drinks, creams. In Uzbek cuisine, vegetarian pilaf (mashhurda or mashkichiri) is prepared from unpeeled golden beans (as this legume culture is also called) and rice. Beans combined with chicken, beef, seafood, peanuts, sauces, vegetables create hearty, delicious salads. Mung bean tastes like beans with hints of walnut. It goes well with rice, lamb, spinach, peas, chickpeas. In addition, this product makes hearty casseroles, snack pies, vegetable cutlets, stews, mashed soups.
Deep-fried mash is a traditional oriental snack.
How do I cook beans?
Rinse the cereal under cold water.
Soak for 2 hours (or overnight) if using whole beans. The longer they are saturated with moisture, the softer they will be in the finished dish and the less time it will take to cook them.
Add cereals to boiling water (at the rate of 1 part mung bean to 2.5 parts water), cook for half an hour over low heat. The porridge is salted 10 minutes before the end of cooking. To improve the taste of mung bean, you can add butter or sunflower oil, sautéed onions, carrots, mushrooms, hot spices (asafoetida, curry, chili powder, coriander, garam masala) [9]
How to sprout beans
First of all, it should be noted that sprouted crops are a powerful energy resource.
The nutritional value of such products increases by 2-10 times. Germination increases the concentration of biologically active substances in them and reduces the amount of phytates that impede their absorption.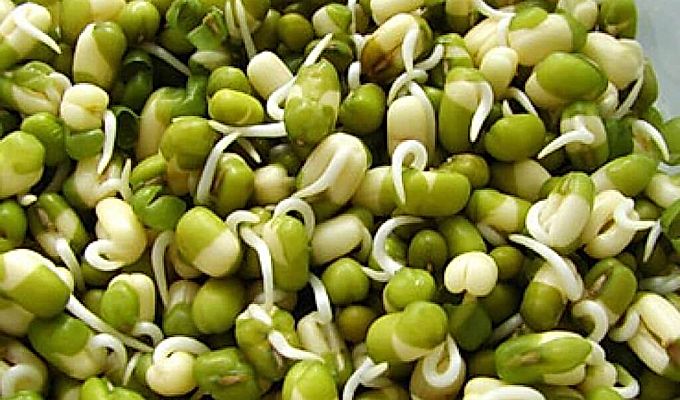 The sprouted beans can be eaten raw or cooked, such as fried in oil. For growth, special conditions are required, which imply the alternation of modes of light and darkness. The sprouts appear in 3-5 days and are ready to eat in a week. However, this is possible provided that they are in the light for 4 hours a day, and in the dark the rest of the time.
So, before germination, rinse, sort out the beans, get rid of broken grains and litter. Soak them in water overnight. In the morning, rinse the mung bean, transfer to a glass jar, cover it with gauze, tighten with an elastic band. After that, turn the container with the beans and place them in a bowl of water at a 45-degree angle so that the beans are saturated with moisture. The next step is to put the beans in a dark room. Rinse in the same way as it dries.
It is recommended to eat mung bean when the size of a bean with a sprout is at least 1 cm. It is in this form that the beneficial properties of the product are revealed in full. However, do not delay germination, otherwise you will get brown, tasteless sprouts instead of fresh young white-yellow shoots. It is better to use sprouted mung bean for food immediately, because the maximum shelf life is 2 days in the refrigerator, in gauze.
Green bean skins contain natural plant fiber to aid digestion, so do not cleanse it before consuming it.
Interestingly, the content of vitamin C in seedlings increases 7 times compared with seeds (and amounts to 42.4 mg), antioxidants - 5 times (on the fifth day of cultivation it is 517 mg), fiber - by 1/3 part (reaches 8.9%) [10]
The active components of mung bean seedlings activate the production of hemoglobin, participate in the construction of phosphatases, carry a powerful charge of energy, relieve stress, have antimicrobial activity, and normalize metabolism. Legume sprouts help in the fight against arthritis, asthma, allergies, atherosclerosis, diabetes mellitus, menopause, hypertension. In Chinese medicine, they are used as a cooling food, cooling the body, cleansing the skin, and preventing ARVI.
Any mung bean seeds are suitable for germination, since they are not subjected to heat and chemical treatment. The main condition is that the grains should not be dark or wrinkled.
Recipes
Gave
Ingredients:
mung bean - 200 g;
butter - 50 g;
grated fresh ginger - 5 g;
cinnamon - 1 stick;
cumin - 7.5 g;
water - 1.9 liters;
garlic - 2 cloves;
red pepper - 2 pods;
bay leaf - 2 pieces;
turmeric - 5 g;
vegetables - 275 g;
salt.
Cooking principle:
Pour water into a saucepan, bring to a boil. Add bay leaf and cinnamon.
Introduce mung bean into boiling water, cook for 20 minutes over low heat.
Peel the vegetables, chop finely, mix with butter, turmeric. Put the resulting mass into the mung bean. Cook until the beans are tender. If the consistency of the soup is too thick, add a little water.
Preheat a skillet, sauté dried red peppers and cumin seeds. When dark, add garlic and grated ginger.
Pour seasonings into dal, cook for 5 minutes.
Add sour cream to the dish before serving.
Mashhurda
Ingredients:
round grain rice - 200 g;
mutton fat - 100 g;
carrots - 2 pieces;
tomatoes - 3 pieces;
mung bean - 200 g;
whole barberry - 15 g;
cilantro - 4 branches;
boiled water - 3 l;
beef bones - 400 g;
lamb pulp - 400 g;
vegetable oil - 60 ml;
onions - 2 heads;
a mixture of red hot pepper, cumin seeds and coriander - 15 g;
salt.
Cooking principle:
Cut the fat and meat into small pieces.
Peel the onions and carrots, cut into strips.
Scald the tomatoes with boiling water, remove the skin, chop.
Rinse the mash and rice under water, fold them onto a sieve. Do not mix cereals together.
In a cauldron, heat oil, meat and bones, fry over high heat until a brown crust appears.
Add fat (it should become slightly transparent), then onions (until a yellowish hue appears), tomatoes. Stir in the barberry and spice mixture. Cook for 5 minutes.
Put the carrots in a cauldron, add mung bean, pour in water. Bring the contents to a boil, screw up the heat, cook under a closed lid for at least half an hour. Cook the dish until the beans burst.
Add bay leaf and rice to the contents. Cook for another 25 minutes, season with salt. After cooking, leave the dish on the stove for 20 minutes.
Serve mashhurd with katyk or thick yogurt. Decorate with cilantro, basil.
Interestingly, in Uzbek fried soups, the spices are added at the stewing stage. Often they are introduced after adding vegetables (in particular tomatoes), when they are actively giving off juice.
Conclusion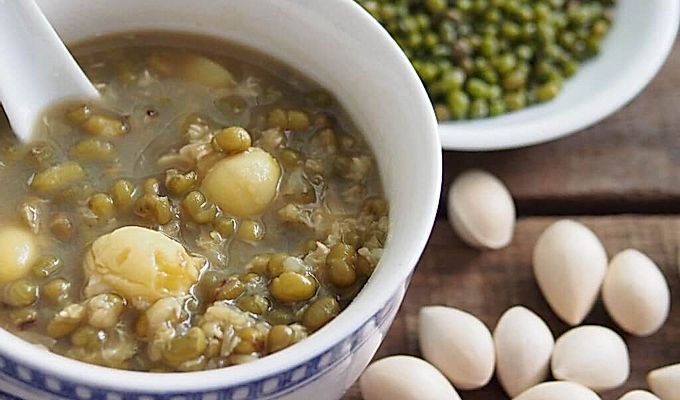 Mung bean - golden beans used to eliminate food poisoning, inflammation (tracheitis, laryngitis, sinusitis, rhinitis, bronchitis), acne, dermatitis. The extract from dry beans tightens pores, cleanses, softens and nourishes the skin, and also supports the woman's body during the period of hormonal changes (menopause). Mung bean protects against free radicals, stimulates intercellular processes, removes dullness of the dermis, heals shallow wounds.
Munga beans are widely used in cooking. On their basis, sauces, pasta, soups, side dishes, snacks, pancake fillings, salads are made. Mash is stewed, boiled, fried or served in a sprouted form. It goes well with meat dishes, seafood and vegetables (vegetarian pilaf, risotto, dal, mashhurda).
With daily consumption of beans, cholesterol levels are reduced by 19%.
To increase the concentration of nutrients, mung bean is soaked and germinated for 5 days. Seedlings enrich the body with easily digestible protein, slow carbohydrates, useful amino acids, fats, copper, zinc, calcium, phosphorus, potassium, iron, vitamins of group B, E, C, K, A, PP. Sprouted beans relieve nervous tension, activate metabolic processes, normalize blood pressure, and resist the growth of malignant neoplasms.
It is recommended to eat no more than 200 g of boiled mung bean per day. Excessive consumption of legumes is fraught with bloating, dispersion, and allergic reactions.
In addition, the intake of mung bean should be limited to nursing mothers, pregnant women and children under 6 years of age.